Commanding presence of Gen McChrystal in Afghanistan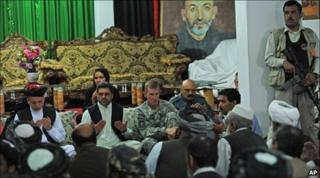 Departing US General Stanley McChrystal was seen as a commanding presence in Afghanistan, where his straight talking and determination to reduce the level of civilian casualties won him much respect, says BBC Kabul producer Bilal Sarwary.
It was a cloudy summer evening in Kabul when I first met General Stanley McChrystal.
The venue was an upscale neighbourhood in west Kabul.
Gen McChrystal was the chief guest at a talk organised by the Center for Conflict and Peace Studies, a think-tank run by President Hamid Karzai's cousin, Hekmat Karzai.
Among the audience were senior Afghan officials, members of the president's staff, parliamentarians - including some female legislators - representatives of the civil society, and a BBC reporter.
Piercing eyes
Gen McChrystal arrived on time and began interacting with the Afghans present.
He shook hands, waved, smiled and even hugged some of those present.
I had spoken to some of those sitting in the audience and asked if they had met the American commander before. Almost all had responded in the negative.
But, it did not appear so when I saw Gen McChrystal mingling with them. In fact, it looked as if the general had known these people for years.
A tall man with an athletic physique and piercing eyes, Gen McChrystal had a commanding presence.
I did not know what to expect of that evening: Gen McChrystal was supposed to give an address ahead of his much anticipated review of the Afghan situation.
But as soon as the talk began, the general made it clear that he would prefer to listen more and speak less.
Half smile
And he did listen - patiently - as speaker after speaker aired his or her views on how peace could be restored in this troubled nation.
However, every speaker without exception, made it a point to attack the Western handling of the situation.
All speeches either began or ended with criticism of the American policy.
And when a speaker came on to the subject of America, I would crane my neck and peep at Gen McChrystal to check his reaction.
It was always the same - a half smile.
Gen McChrystal began his address by owning up to the mistakes in the military campaign.
The general had first-hand knowledge of civilian casualties and lack of good governance in lawless rural areas of Afghanistan. He had travelled all that week to several of the restive and remote districts and valleys.
During the meeting, he boldly stated that corruption was endemic in the Afghan government and insisted that the Afghan national security forces must be trained so they can take charge.
"Corruption is endemic in Afghan government structures; we have not seen the political will necessary to inspire the Afghan people. I must also admit that corruption exists in the international community; this is a huge source of instability,'' he had said.
He understood more than any other Western official how sensitive Afghans were about civilian casualties and night raids.
I know this because I saw him meeting a group of tribal elders from eastern Afghanistan.
The atmosphere was tense as the elders complained about a recent night raid by US special forces.
One elder stood up and almost shouted at the general and his delegation.
"Russians used to do the same thing and you know what happened to them. The US is acting like the Soviets," said the elder, who had lost family members in one such raid.
The hot weather added to the growing tension. Gen McChrystal was sweating. The gathering was badly organised, and was now becoming confused as everyone talked at once.
Gen McChrystal quietly stood up and, addressing the aggrieved elder, said: "Sir, I am sorry for your loss. I can feel your pain."
He then looked towards the translator to ensure that the elder heard and understood what he was saying.
"But, I also know my words won't bring back your lost ones."
All eyes were on the general now and the mood changed at once.
"Sir," the general continued. "We are not the Soviets. They killed one million Afghans. We have not done that."