UK population rises to almost 62m, ONS says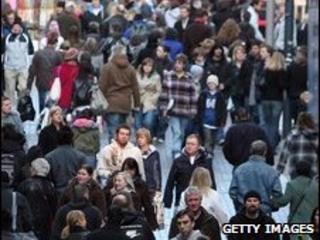 The population of the United Kingdom has reached almost 62 million, the Office for National Statistics (ONS) has said.
It said the number of people in the UK rose from 61,398,000 in mid-2008 to 61,792,000 in mid-2009.
Most of the rise, 55%, was caused by "natural change" - more births than deaths. Migration made up 45%.
The ONS survey also highlights the UK's ageing population and predicts more unmarried couples in the future.
In 2008-2009 there were 123,000 more births than in the early part of the past decade.
Co-habiting couples
Natural change was the largest contributor to population growth until mid-1999, then again in the years to mid-2008 and mid-2009.
Between these periods, migration was the main driver of population change.
The UK population is also ageing fast. The number of people aged 85 and over reached 1.4 million in mid-2009.
The ONS has also predicted that the number of unmarried couples living together will rise dramatically over the next 25 years.
There are currently 2.3m co-habiting couples in the UK, but this is expected to reach 3.8 million in 2033.
Since 1978, more and more couples have decided against tying the knot.
In 1978, 50% of people were married. By mid-2008, that figure stood at only 40%, down 41,000 on the previous year.
Meanwhile, divorce has become more popular. In 1978 only 2% of couples split. In 2008, 7% of couples divorced during that year.
However 45% of total marriages end in divorce, the ONS added.