Boys charged in Jersey after St Brelade vehicle fires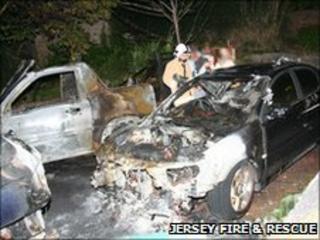 Two teenage boys have been charged in connection with a spate of fires in a Jersey parish.
Fires were reported in the Mont Sohier area of St Brelade at about 2300 BST on Tuesday where a garage, three cars and a bin were all alight.
The boys, both aged 16, one from Grouville and one from St Saviour, were charged with larceny and Fire Service Law 1959 offences.
Police urged anyone who saw the fires or has any information to contact them.