Q&A: Why the state pension age is rising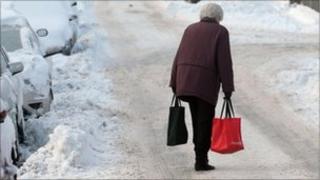 The coalition government wants to raise the age at which people are eligible to draw the state pension faster than the previous government planned to do.
The government's Pensions Bill proposes that the state pension age for women rise from 60 to 65 by 2018, and then increase to 66 for both sexes by 2020.
The Labour government was planning to make the same change, but with a much longer timescale, reaching 66 by 2026.
The state pension age for women was already being raised to 65, but the swifter rise means that some women are angry at being caught in an age bracket in which they say they cannot make up for the state pension they are losing.
Another important change to pensions is the phasing out of the Default Retirement Age (DRA) from October 2011, which allows employers to force employees to retire when they reach the state pension age.
The pension problem has moved centre stage with the swelling of the budget deficit.
What is the problem?
The government says the current system is simply too expensive.
The state pension is paid for by current taxpayers. And retirees are a two-fold problem for the current workforce.
Firstly, they are living longer and therefore need pensions for longer. The government says the retirement age has not kept pace with longer life expectancy. When the first contributory state pension was introduced in 1926, only a third of men and 40% of women were expected to live to see their 65th birthday.
Life expectancy for people reaching 65 is now 86 for men and 89 for women. So someone retiring in their sixties could now spend almost a third of their lives in retirement and drawing a state pension. Whether they are fit to work in their mid-60s is clearly dependant, in part, on their line of work.
In addition, the 1960s baby boom means there are more people entering retirement with fewer workers born since to pay for them.
How is the government tackling the issue?
A two-part solution is proposed. Raising the age at which both men and women can draw their state pension is one.
The second part is the abolition of the Default Retirement Age (DRA) at which workers can be forced to retire.
From October 2011, staff will be able to stay in their jobs for as long as they are willing and able to do them, with the state pension waiting for them as a cushion once they decide to retire.
At present, 65 is the both the DRA and the age at which men can draw the state pension. The DRA for women is also 65, and their state pension age has just started moving up to match that of men's. It is now at about 61.
Of course, if you have a private pension you can choose when to draw that, from the age of 55.
Why has this become a battleground for some women?
Five million people would see an increase in their pension age.
Many thousands of women in their late fifties, estimated to be at least 330,000 and possibly as many as 500,000, believe they will need to keep working because they will not receive at least a year of state pension that they were expecting. This could be as much as £5,000 a year.
Women who were born between 6 March and 5 April, 1954, are the worst affected. They will have to wait for an extra two years for their state pensions, according to Sarah Pennells, of SavvyWoman.com.
A state pension age calculator outlines when people are due to reach state pension age.
How much will these changes save?
The proposals in the Pensions Bill are estimated to save £30bn in benefit payments and make a further £8.1bn in tax and National Insurance receipts under the proposed timetable.
Speculation suggests that there could be some concessions for women in their 50s.
But softening the blow for 300,000 women, by sticking to Labour's original plans, could cost the government £13bn over 10 years.
What about money saved by abolishing the default retirement age?
That is a harder one to answer as people who continue to work past the eligibility age for their state pension are still entitled to claim it, or save it for a later date.
So that will not save any money. But there will be gains from those working in terms of taxes, as earnings will be taxed at the rates applying at that time.