Police move in to end Coatbridge school sit-in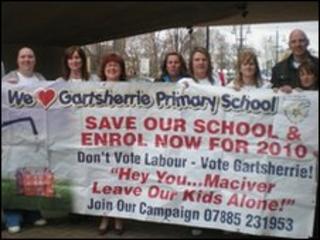 Police and council officials have moved in to try to end a protest at a closure-threatened primary school in North Lanarkshire.
Parents at Gartsherrie Primary in Coatbridge have been staging a sit-in since the start of June.
The protesters said two people, including a grandfather, remained in the building.
Police officers were blocking the entrances to prevent others from entering.
The school is among four primaries in the region due to shut permanently when the current term ends on Friday.
The council approved the closures in March.
Parents at Gartsherrie have set up an action group to fight the decision.
Since March they have staged a series of marches, signed petitions and mounted an unsuccessful legal challenge against the decision.
Pupils have been bussed to a nearby secondary for lessons while the sit-in was going on.
The council confirmed it had taken action to secure the Gartsherrrie building.
Outling the reasons for the action Councillor Jim Logue, convener of learning and leisure services, said: "We have a duty to the public purse and we have been heating and lighting the building for three weeks with no young people being educated on the premises.
"This is an unsustainable position.
"There are many thousands of pounds worth of educational materials and resources within the building which we now need to have in our possession so that these can be redeployed."
He added: "Teachers' personal possessions are also inside and they have a right to have those back.
"The Gartsherrie building is now surplus to requirements and we have a duty to make it secure."