Homeowners' Ryder Cup rental websites let down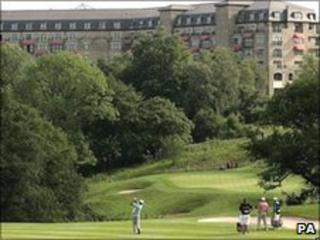 Websites are charging homeowners to advertise their homes for let to Ryder Cup tourists for up to £30,000 a week despite almost non-existent demand.
A BBC Wales investigation found some websites were charging people up to £200 to register their homes, adding it was "likely" their homes would be let.
Since the X-Ray programme found few homes were being let, two of the sites have stopped taking new listings.
The tournament starts at Celtic Manor Resort, Newport on 1 October.
Around 120,000 tickets have been sold for the high-profile event, estimated to be worth £73m to the Welsh economy.
A number of internet-based companies - not affiliated to the Celtic Manor Resort or the Ryder Cup - are offering homeowners the chance to let their home for up to £20,000 to £30,000 during the event.
The programme investigated four of the largest - Fairway Accommodation, Big Event Accommodation, Newport Golf 2010 and Accommodation for the Event.
In January, Sharon McLaughlin-Davies paid £50 to register her apartment in Cardiff with Big Event Accommodation.
"They don't guarantee that you'll rent your property, but the wording is it's unlikely that you won't," she said.
Ms McLaughlin-Davies decided to charge £4,500 for a 10-day rental, but did not get the response she had expected.
"Absolutely nothing," she said. "No response whatsoever - and it's been like that for the six months.
"I reduced the price to £895 for the week and still nothing."
Four months ago music teacher Frank O'Connor of Llanwern, Newport, paid £110 to register with Fairway Accommodation, which also told customers they were likely to let their home.
"(The company) suggested £7,000 to £8,000 would be perfectly feasible amount, which seemed enormously high, so I went slightly lower and I put it on the market for £6,000," he said.
"I was given a lot of encouragement that it was very likely that I'd have a lot of interest. To date, I've had no response at all."
There are currently 72 properties on the Fairway Accommodation site - but the BBC understands that only a handful have been let so far.
'No response'
The programme called a number of homeowners who had paid to register their homes with these websites.
Some hade been advertising for a year or 18 months and the majority told the programme they had had no response at all.
The Ryder Cup's organisers told the programme there had not been a big demand for private accommodation in previous tournaments and that they did not endorse these websites.
Prof Annette Pritchard, director of the Welsh Centre for Tourism Research, said the chances of homeowners letting an ordinary house to Ryder Cup tourists were "probably quite small".
"I wouldn't imagine you'd get much more of than 10% of houses on these sites being let," she said.
Prof Pritchard added that she feared such efforts to get rich could damage future tourism.
"The world's attention is going to be on Wales for this week in October," she said.
"If there's a concern about accommodation being overpriced, about people trying to make a quick profit, about people being a bit greedy, it could have some long term implications for Wales' development as a golfing nation."
Fairway Accommodation declined to comment, but since being contacted by the programme has stopped taking on new properties, and its website no longer says people are likely to let their homes.
Newport Golf 2010, owned by rugby player Alix Popham, has also now closed its books to new customers, saying it will concentrate on finding visitors for the properties it already has.
Big Event Accommodation did not respond to the programme. The firm is still accepting new listings, but has made some changes to its website.
A spokesman for Accommodation for the Event commented: "All information on the website is correct and truthful, but we will address any concerns or suggestions sent to us and will update it accordingly if necessary."
The company would not reveal how many properties it had let and it is still accepting new listings.
X-Ray can be seen on BBC One Wales on Monday, 28 June at 2235 BST