Bikers to challenge £1 parking fee in central London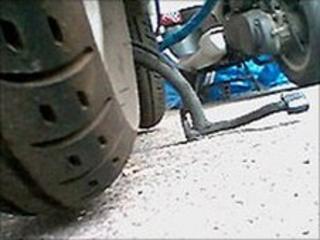 More than 50 motorcyclists have ridden to the High Court in central London, to challenge the legality of a £1-a-day parking fee in the West End.
Leaders of the "No To Bike Parking Tax" campaign want a judge to rule the orders, introduced by Westminster Council, are unlawful and invalid.
The group accuses the council of acting outside its powers, and says the orders have no traffic management benefit.
The council said it was confident the court would dismiss the challenge.
The orders, which came into force in January, have been made under provisions of the 1984 Road Traffic Regulation Act.
They replaced experimental orders introduced in 2008.
'Improper purpose'
Campaign lawyers will argue they were introduced for "an improper purpose", namely the raising of revenue, following inadequate consultation and reliance on inaccurate cost and revenue figures.
The orders impose a £1-a-day charge for motorcyclists, except for residents' permit holders.
Alternatively, motorcyclists can pay £3.50 a week, £13.50 a month, £33.50 for three months or £100 a year.
Campaign leader Warren Djanogly said: "Westminster councillors are blatantly abusing the system to raise money, and we are going to expose them.
"We have support from all over Europe. People everywhere are telling us we have got to stand up," he added.
"We must not capitulate because every council round the country is desperate to bring in similar charges."
Councillor Lee Rowley, Westminster's cabinet member for parking and transportation, said: "The policy to which the protesters object is a proper decision, properly arrived at by a democratically-elected authority.
"We maintain the view that with the huge demand for on-street space in Westminster, we think it's only reasonable that motorcyclists should pay a modest sum of £1 a day to park.
"We remain confident that the scheme has been implemented correctly and the court will dismiss this challenge in due course."