'Key militant' held in Indonesia police raid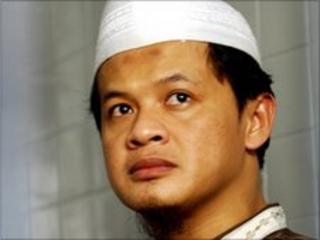 Indonesian police say they have captured Abdullah Sunata, a much-sought after alleged militant, and two of his men, in a raid in Java on Wednesday.
Indonesian forces have launched a string of anti-terror operations since the July bombings in Jakarta last year.
The bombings targeted two luxury hotels, killing nine people and injuring scores more.
Police say Mr Sunata was involved in setting up a new terror network that had plans to carry out more attacks.
Aceh link
Capturing Abdullah Sunata is a huge coup for Indonesia's anti-terror unit.
He is seen as Indonesia's most wanted militant - after Dulmatin and Noordin Top, considered some of the most dangerous men in the country, were killed in previous raids.
Detachment 88, as the elite squad is known here, has been looking for Mr Sunata ever since it found what officials say was a militant training camp in Aceh earlier this year.
Police believe Mr Sunata was one of the key members of this group, which they think was planning a Mumbai-style attack on Indonesian targets.
Security forces also caught a man named Sogir in the raid, who they believe is Mr Sunata's accomplice.
Analysts say while the arrests of the alleged militants are a sign that police are doing their job, it also shows a possible rejuvenation of terror networks in the country.
They add that it is significant Mr Sunata and Sogir have been captured alive because they could provide vital clues about new terror cells in Indonesia.
Indonesia's anti-terror unit has been under pressure to show results in its efforts to clamp down on militancy ever since the July bombings in 2009.
The deadly blasts, coming after four years of relative peace and quiet, shattered the image of Indonesia as a safe nation and rocked the confidence of the international community in the country's ability to tackle terror.