Bromley named as the UK's curry house capital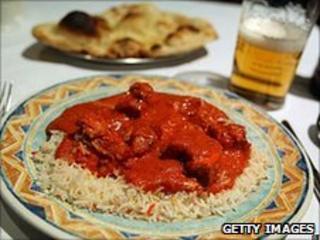 A small town has been named as the curry house capital of the UK.
A survey found one curry restaurant for every 853 residents in Bromley, south-east London.
Other curry restaurant hot-spots included Epsom, Reading, Leicester, Cardiff and Doncaster, according to the study by a beer firm.
But Birmingham, famous for its balti belt, failed to make the top 10. There are now more than 9,000 curry houses across the UK.
The study also found Taj Mahal was the most popular name for an Indian restaurant followed by Taste of India, Maharaja, Akash, Spice Lounge and Monsoon.
More off-beat names included Posh Spice, Urban Turban, Ace of Spice and Some Like It Hot.
The first curry house opened in London in 1810 and now one in five people say Indian food is their favourite meal.
Cobra, which conducted the count, has announced plans to send a mobile curry house to areas of the country which do not have any.