BAA profit guidance shakes off ash and BA strikes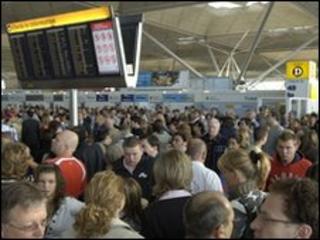 BAA has revised down its 2010 earnings forecast by £10m, despite the disruption caused by volcanic ash, the BA strikes and snow.
The cumulative loss from these factors was £40m but was offset by better-than-expected passenger growth.
The loss-making airport operator says its operating cashflow will still be some £946m this year.
Meanwhile, on Wednesday the Competition Commission began a legal challenge to force BAA to spin off Stansted airport.
The commission first ordered BAA to sell Stansted and Gatwick in 2008, in order to break up the company's domination of London airports, as well as either Glasgow or Edinburgh.
The sale of Gatwick to Global Infrastructure Partners for £1.51bn was announced in October last year.
But BAA successfully appealed against the commission's order to sell three of its airports, and while the Gatwick sale is unaffected, it is unclear whether it will have to sell the other airports.
The operator posted a pre-tax loss of £821.9m in 2009, largely because of the Gatwick sale, and even worse than the £324.2m loss it made in 2008.