Witness to southern Philippine massacre shot dead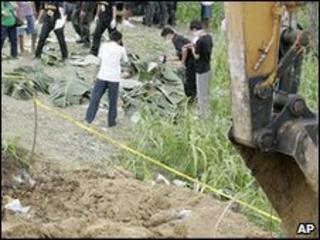 A key witness to the massacre of 57 people in the Philippines last year has been shot dead, a prosecutor says.
Suwaib Upham had admitted to being one of the gunmen who took part in the Maguindanao attack.
He had agreed to testify against members of the Ampatuan family, who are on trial for ordering the killings.
Since admitting his part in the murders, Mr Upham had repeatedly asked for witness protection but had yet to receive any government help.
Trial setback
Earlier this year Suwaib Upham, known publicly as "Jesse", had given several media interviews detailing his role in last November's killings.
He said he was a member of the Ampatuan family's private army - and as one of the seven gunmen at the scene, he saw exactly who killed whom and the brutal way they died.
Harry Roque, whose law firm represents some of the victims of the killings, said Mr Upham was the most important witness to have come forward so far.
He told the BBC that Mr Upham's death was a major setback and sent a gruesome message to other witnesses that the same thing could happen to them.
The Maguindanao killings were the worst case of political violence in the Philippines in living memory.
The Ampatuan clan denies being behind the murders, but six family members are currently awaiting trial in connection with the attack.
The Ampatuans had effectively ruled Maguindanao, in the south of the country, for years, and had political ties with the outgoing President Gloria Arroyo.
The US-based group Human Rights Watch said the death of such a key witness in the case against the Ampatuans raised doubts about the authorities' resolve to see justice done.