City council bid to restrict Brighton's sex venues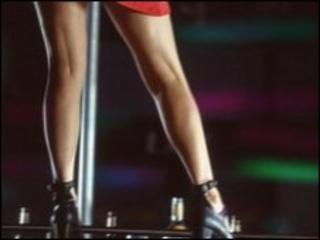 Plans to limit numbers of sex venues in Brighton and Hove are being discussed.
Councillors will meet later to consider proposals to restrict the number of sex shops and cinemas in the city to five, and lap-dancing clubs to three.
The council said new legislation had allowed it to set limits on numbers of sex entertainment venues and also control where they were located.
Consultation on draft proposals will run until 31 August and the results will go before councillors in November.
Brighton council's draft plans said there could be two sex shops and sex cinemas in St James Street shopping parades, two in Brighton Station shopping parades, one in Hove shopping parades, and none in any other residential, shopping, commercial or industrial land.
There could be three sex entertainment venues around Brighton Leisure Centre, but none in Hove commercial centre or any other areas of the city.
Retail attraction
In April, new rules came into force requiring lap-dancing clubs in England to apply to councils for a licence.
The venues were also classed as sex establishments instead of pubs or cafes, making it easier for people to say they were "inappropriate".
Councils could reject applications for a licence on the grounds of crime, nuisance or public safety - but not for moral reasons.
Brighton council said its plans to limit sex shops and sex cinemas were to discourage a proliferation of sex establishments and to ensure a concentration of sex establishments did not change neighbourhoods.
And it said licences for sex entertainment venues would not be granted in family residential areas, family leisure areas, or retail areas where commercial occupiers argued plausibly that the venues would lower the retail attraction of the area.