Weeds and algae cause problems at Poole Park boat lake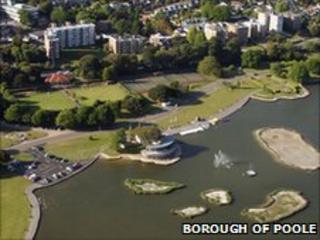 Boating has been disrupted at a popular Dorset lake after a build up of algae and weeds.
The Borough of Poole said Poole Park Lake tested positive for low levels of green algae on the water surface but said there was no risk to health.
Model boats were also halted at the lake after tasselweed formed just below the surface.
Twelve tonnes of tasselweed were removed from the lake earlier this year but it has spread to other areas.
A spokeswoman stressed the green algae, also known as blanket weed, was not the same as toxic blue-green algae, but its presence has been known to create the potential for blue-green algae to develop.
Outlawed chemicals
The salt water lake covers 40 acres of the Victorian park.
Environmental legislation means chemical treatments previously used to tackle the weeds have been outlawed.
Leisure councillor Peter Adams said: "We are considering various options of how we can suppress the weeds which, although harmless to anyone using the lake for water-based activities, is quite unsightly.
"We are working as quickly as we can to find a solution that will not pose any risk to wildlife, people using the lake and nearby areas of natural beauty."
The council said the rapid growth of the tasselweed is believed to have been caused by the extreme temperatures while the algae, is believed to be caused by "a combination of hot weather and high nutrient levels" in the water.