Joan Rivers sued by former manager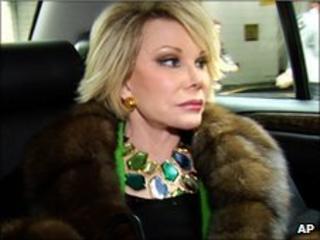 The former manager of comedienne Joan Rivers has sued her for $2m (£1.34m), saying she defamed him in a documentary and that she owes him money.
William Sammeth says in legal papers she defamed him in Joan Rivers: A Piece of Work, saying he had "disappeared" when she had in fact sacked him.
He has also submitted a list of Rivers' work for which he says he is owed 10%.
Ms Rivers, 77, said in a statement his employment was "properly terminated" in 2009 and he was not owed any money.
'Erratic'
Mr Sammeth said in the court documents, filed in New York, that her career was "dormant" when he became her personal manager in 2002.
He said that the star had been performing about 12 concerts a year and that, when he was sacked last year, that stood at 40.
Mr Sammeth, who lives in Miami, Florida, also said that he had helped Rivers to victory in US reality show Celebrity Apprentice last year.
He said that he had paid $18,000 (£12,000) at a charity auction that was part of a task in the programme and that his payment helped her ultimately to win it.
As well as the alleged defamation in the documentary, he also complains that she described his behaviour as erratic in interviews.
He says commission and other money owed to him amounts to $200,000 (£134,000), while he is seeking a further $2m (£1.34m) in damages.
"This is the claim of a former personal manager who was properly terminated over one year ago," Ms Rivers said in a statement.
"Billy Sammeth is now making claims for money to which he is not entitled and I am confident that the judicial system will dispose of his lawsuit in the appropriate manner."