Can Petraeus deliver in Afghanistan?
By Michael Codner
Head of military sciences, Royal United Services Institute (Rusi)
David Petraeus, one of America's most senior and best-known generals, is preparing to take over in Afghanistan. What effect will switching the top job have on the current counter-insurgency strategy?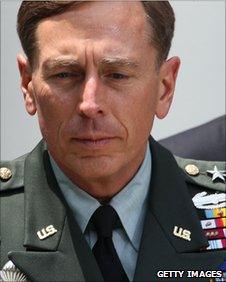 The nomination of General David Petraeus to take over as commander of Nato's international security assistance Force (ISAF) in place of the sacked General Stanley McChrystal, was the only sensible option available to President Barack Obama.
As commanding general of the multinational force in Iraq from 2007 to 2008, he is widely credited with having led the successful military surge that allowed real progress in stabilising the country, and a phased withdrawal of foreign troops.
As commander of US Central Command (CentCom), he has been in the chain of command between Gen McChrystal and the White House for US national operations in Afghanistan, which are distinct from Nato operations and are directed more specifically at ousting terrorism through the use of special forces and other discreet capabilities.
He has the international stature and profile to allow Mr Obama to repair a situation that is quite dreadful in its timing. Afghan and allied forces are on the brink of an operation to tackle the Taliban stronghold of Kandahar, the second city of Afghanistan. This is seen globally as the next stage of the campaign that began with Operation Moshtarak in Helmand, and which could be defining in confirming progress towards the handover of security to Afghan forces and eventual withdrawal of foreign troops.
For Gen Petraeus, 57, this is a demotion of post if not of rank. As head of CentCom, he is in charge of all US military operations from Afghanistan through the Gulf and Saudi Arabia to Somalia and Egypt in the West.
Gen Petraeus is a masterful political general. He is highly articulate and adept at judging and communicating with an international audience. In this respect, he is very different from Gen McChrystal who majors on the rough, tough and blunt as the Rolling Stone article captures.
With his own experience of Iraq and his association with Afghanistan, he is likely to run with the McChrystal plan as Mr Obama intends. It will be important, however, for the plan to develop to cope with outcomes that are unlikely to conform to expectations. Gen Petraeus is known to be uncomfortable with the July 2011 deadline that President Obama presented as the beginning of withdrawal.
A classic tool of insurgents is to prolong a campaign to outlast the limited patience of democracies. And with US mid-term elections coming up in the autumn, evidence of progress towards withdrawal is particularly important. Gen McChrystal had already announced a delay in the Kandahar operation - in whatever form that will take.
The appointment of Gen Petraeus awaits confirmation by Congress. In the meantime, the UK's Lieutenant General Nick Parker is in command of the International Security Assistance Force (Isaf) as deputy commander.
But the general perception of the Afghan government and people, the US and other Western electorates and, no doubt, the Taliban will be one of delay and protraction. Gen Petraeus will need to provide some initiatives as soon as he takes command that will redress this mood.
For UK forces, Gen Petraeus is a good choice. From Iraq he understands the British military way and he has the respect of Europeans generally. In his recent lecture at the Royal United Services Institute (Rusi), he talked up the strength and importance of the Anglo-American "special" relationship to such a degree that his unintended message was of a problem that he had come over to redress.
However, in Afghanistan British and American forces are working in Helmand more closely than before the surge, and this high degree of integration between the two major force providers is all to the good.
For Afghanistan, the future is hugely uncertain. Gen McChrystal's sacking is obviously a major setback for Nato, the US and the Afghan government. Operation Moshtarak was not the failure that naysayers have claimed but counter-insurgency is about perceptions as much as reality. Gen Petraeus must seize back the initative and show from day one that the plan is on course again. He must use his political skills to rebuild perceptions of a united US civilian and military leadership and exploit his diplomatic craft to sustain alliance contributions in imaginative ways.
Michael Codner is head of military sciences at the Royal United Services Institute (Rusi).
Related Internet Links
The BBC is not responsible for the content of external sites.