Plymouth bus driver 'did not force mother off'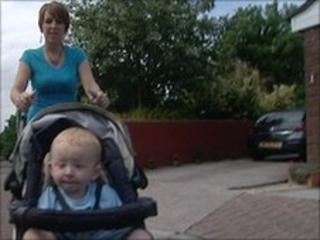 A bus driver in Devon did not force a mother to get off a bus because of her toddler's behaviour, bus bosses say.
Sharon Tracey, 35, said she was told to get off the bus in Plymouth more than a mile from her stop because the driver was disturbed by her two-year-old son.
Plymouth CityBus said it had used CCTV footage to establish what happened and managing director Andrew Wickham said she was not forced to step off.
Mrs Tracey stood by her claims, saying she was warned twice by the driver.
'Chose to leave'
The alleged incident happened on Tuesday as part-time hairdresser Mrs Tracey was heading home to Crownhill from the city centre on the number 62 route.
She said the driver told her to get off at the Manadon roundabout, about 30 minutes walk from her house, because her two-year-old son, Brandon, would not keep quiet while he was in his pushchair.
CityBus said that after its investigation it was confident the driver did not ask her to leave the bus.
Mr Wickham said: "The lady chose to leave. The bus driver did not tell her to leave the bus."
Mrs Tracey said she was told she would be forced to get off despite her best attempts to keep him quiet.
She said: "Twice he said that to me.
"I said 'Right, OK, I'll get off the bus,' because he made me feel so stupid in front of everybody that what else are you meant to do?"