Results gulf between rich and poor pupils in Scotland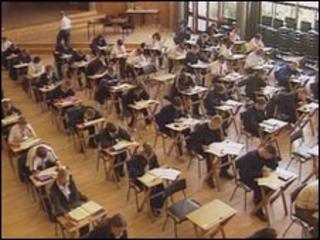 Scottish education is marred by the big gap between the results of poorer and richer children, it has been warned.
Delegates at an Organisation for Economic Co-operation and Development (OECD) conference will hear that the gulf is a hallmark of the system.
Dirk van Damme, a leading expert with the research body, said schools should have more control to run things.
The Scottish government said changes were under way to give schools more flexibility.
Mr van Damme, head of the Centre for Educational Research and Innovation at the OECD, is a guest speaker on raising standards in secondary education at the conference Edinburgh.
He said the education system in Scotland compares well with that of other countries in terms of the commitment from staff.
But he said Scotland's system was "suffering from an achievement gap between rich and poor".
Other countries are more successful at educating children from less well-off homes he suggests.
He said: "Too many youngsters (in Scotland) leave school without qualifications or skills that matter in the labour market."
He warned that the price of that for individuals was a huge problem finding work and for the country as a whole, a social divide.
Practical skills
Writing in Times Educational Supplement Scotland, which is supporting the conference, Mr Van Damme said there was a culture in Scottish education of speaking positively and of aspiring to a more equal society.
But he said: "An egalitarian culture is definitely not enough. The egalitarian and optimistic education culture in Scotland may even help to conceal the real issues."
Mr Van Damme questioned whether reforms in Scotland were addressing central problems.
He said: "Few countries have invested so heavily in their teaching force, nor have they introduced a curricular reform comparable in breadth, ambition and inclusiveness."
The expert also suggested that many children in secondary schools are alienated by a curriculum which is overly abstract and academic.
He calls on Scotland to wholeheartedly embrace vocational education offering the chance to learn hands on practical skills.
He also calls for schools to be given more freedom to make their own decisions over staffing and what is taught.
And in return for greater autonomy they should be held to account for standards, he said.
In a report three years ago the OECD argued the only real way Scotland could do that was to have reliable tests monitoring the progress of every child.
A spokeswoman for the Scottish government said: "Improving educational outcomes for all of Scotland's young people remains a top priority for the Scottish government. Mr van Damme's views about autonomy have been echoed by the cabinet secretary in recent months."
The EIS teaching union said greater freedom carried a risk of variation in standards between schools and a narrowing of the curriculum.
It said the new curriculum for excellence implicitly means greater variation in what is taught in schools.
But general secretary Ronnie Smith added: "Moves to individualise the curriculum are put at risk by budget cuts."
The government spokeswoman said: "Of course the flexibility offered by curriculum for excellence enables schools and their partners to devise a coherent curriculum that offers personalisation and choice to meet the needs of all children and young people, whatever their circumstances.
"For those young people who may need more choices and more chances, more targeted support is offered so that every young person can reach their potential, wherever their learning is taking place."