Twinbrook Irish school 'new build' plans are shelved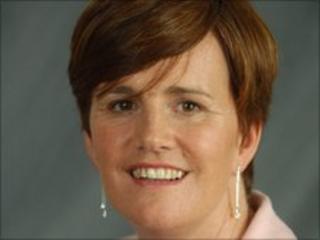 Staff and parents of an Irish medium school on the outskirts of Belfast are "devastated" that plans for a new building are to be shelved.
This is despite a 13-year wait and repeated assurances that their old rotting building with a faulty roof and split floors would be replaced.
Staff and parents at Scoil na Fuiseoige, Twinbrook, said they had heard the news unofficially.
The Education Minister is to announce a review of capital building schemes.
Caitriona Ruane will speak to the Assembly next Wednesday
Principal Eilis ui Neill said everyone was "devastated".
"We have been waiting on the outcome of this review and we thought we would have been on the top of the list," she said.
Ms ui Neill said this was not because of the school's Irish status, but rather because of the conditions in the building and the length of the wait for a new build.
"We expect priority because our children are entitled to equal rights," she said. "We feel our children are not being treated equally."
Mrs Ruane said: "Scoil na Fuiseoige is a wonderful school doing a very good job in a highly disadvantaged area.
"I will do everything I can to ensure that they and other schools get built across the North.
"All the schools on my list deserve funding but I am dealing with a history of neglect," she said.
On Tuesday, the minister apologised to the Speaker of the Assembly after she turned up too late to make the statement on capital building schemes.
At that time, she said the real issue was that her statement outlined the problems she would have in paying for new schools which she had approved, after a lengthy review.
She said the majority had been shown to be worth building but she needed more money to carry them through.
About 70 schools in dire need of new buildings across all sectors in Northern Ireland are still waiting for work to begin years after plans were approved.