South Wales E. coli inquiry expert's funding concerns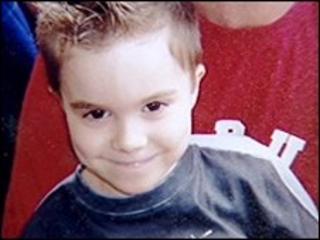 Local authorities are unlikely to get enough money to implement recommendations after an E. coli outbreak, according to an expert.
Professor Hugh Pennington, who led an inquiry into a 2005 south Wales E. coli outbreak, is to tell Assembly Members spending cuts will have an impact.
Prof Pennington said he believed that local authorities in Wales will have to make do with "very little money".
His inquiry followed the death of Mason Jones, five, from Deri, Caerphilly.
Mason, died from E. coli 0157 caused by contaminated meat.
More than 150 people, mainly children, became ill during the outbreak, which struck 44 schools in the south Wales valleys.
The Welsh assembly's health committee is to examine progress on the implementation of Prof Pennington's report into the outbreak.
Mason's mother, Sharon Mills, has given written evidence to the committee and said she was deeply concerned that not enough funding was being made available to local authorities to ensure proper food hygiene standards are upheld.
Prof Pennington said: "What I'll tell [the committee] is that progress is being made but the Welsh government has a very, very important role to play in co-ordinating, in leading, in cajoling and, of course, in funding".
"My concern is that it won't even be level funding; that there will be reductions in funding and that's already started in local authorities.
"They are the front line people and I'm very concerned for the way local authorities manage their declining resources - I hope it's going to be done to basically keep the public health protected."
Prof Pennington said the problem was UK-wide and did not just relate to Wales.
"We have to remember that the UK has the highest level of infection of E. coli 0157 in the world," he added.
"Fortunately it's still rare but we don't want to go down the roads that we've been down before and having these enormous outbreaks with all the tragedies and suffering associated with them.
"Essentially, we have to do better with very little money and that's difficult."
Wales' leading consumer organisation will call for an urgent transfer of legal powers to make it compulsory for food businesses to display their hygiene rating on their premises.
Also giving evidence to the committee, Consumer Focus Wales' senior director Maria Battle will urge AMs to seek extra powers enabling them to compel businesses to display ratings where consumers can easily see them.
Ms Battle will say: "There is a consensus in Wales that we want to put consumers in the driving seat, by compelling restaurants and take-aways to display the hygiene ratings given to them by food hygiene inspectors.
"But the powers to make such a display compulsory are not currently available to the Assembly.
"I would urge AMs to seek those powers at the earliest opportunity so that Wales can be the lead in protecting consumers."