Seven horses stolen by lorry gang in Nottinghamshire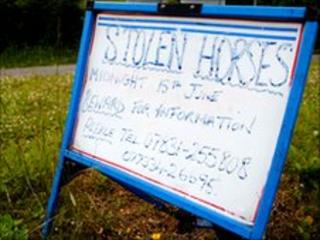 A horse breeder in Nottinghamshire said he is shocked at the brazen way thieves took seven of his animals.
The gang took five pregnant black and white cob mares and a mare and its foal - each worth about £2,000 - from a field in Annesley last week.
Breeder Tom Gaskin said people had seen the theft but assumed the lorries had been sent on his behalf.
Police said they were investigating the crime and appealed for witnesses.
Mr Gaskin said: "I got a call to say my horses were out but when I went down to have a look I couldn't find them all.
"I went to a cottage at the side and she said 'Oh, I thought you had moved them - a lorry loaded them up last night'."
He added: "They have ruined our business, we are devastated, I don't know what we can do about it."