Currys boss John Browett plays down VAT rise fears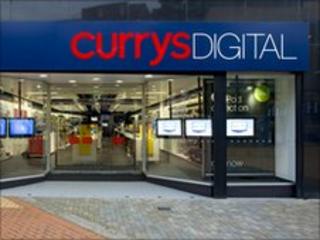 The boss of one of Britain's biggest retailers has played down fears that the coming VAT rise will hurt business.
John Browett, head of DSG, which owns Currys and PC World, told BBC Radio 5 live it won't "make a decisive difference one way or another".
"In our sector we always get price deflation each year as technology gets better," he said, explaining that this would offset the impact of higher VAT.
His comments came as DSG announced a return to profit last year.
The Government has announced that VAT will rise from 17.5% to 20% from 4 January 2011.
'Sanguine'
Browett made clear he was pleased with the Budget.
"The economy needs to be fixed," he said.
"From our perspective, it's great to see that in the long-run the government is going to take firm action. That's got to be good for all of us in the end."
This is a big boost to the government's strategy for putting up VAT, according to BBC Radio Five live's business presenter Nick Cosgrove.
"As one of the UK's leading electrical retailers, DSG might have been expected to be concerned that a big rise in VAT would hurt its sales and profits," he added. "In fact the retailer seems pretty sanguine."
Rising profits
DSG reported pre-tax profits of £112.7m for the 2009-10 financial year.
The strong numbers mark a reversal from a year ago when it recorded a loss of £140m after making hefty write-downs on the value of some its businesses.
Ignoring the effect of these write-downs, underlying profits jumped 61% to £91m, thanks to a 3% rise in sales.
Yet underlying profits still remain 60% below the peak levels achieved prior to the 2008 recession.
This is despite the fact that total group sales have now outstripped pre-recession levels.
However, the jump in sales was almost entirely driven by the group's Nordic business (up 13%), with its smaller online business also contributing (up 11%).
Overall sales at its UK stores actually fell, although UK pre-tax profits were substantially higher.
The World Cup has so far been very successful for Currys, which has seen its sales of TV's rise by 30% in volume compared with the last tournament in 2006.
The firm says sales were boosted by a promotion that offers to take 10 pounds off the price for every goal that England score.
Renewal plan
DSG - which intends to rename itself Dixons Retail PLC - has been pushing through a programme of store closures and a revamp of its shops' format.
Among the company's innovations are new megastores with a floorspace of up to 60,000 sq ft, and "two-in-one" stores containing Currys and PC World under the same roof.
The reformatted stores experienced a 20% uplift to gross profits, while the profits at megastores and two-in-one stores were up 50%.
"We have made significant improvements throughout the business, transforming the shopping experience for customers with better choice, value and service both in stores and online," said John Browett, DSG's chief executive.
"We are now two years into the Renewal and Transformation plan and are encouraged by the improved profitability and competitiveness it continues to deliver."
The news comes a day after rival Kesa reported a 14% jump in profits at its UK electricals retail chain, Comet.