Chinese police break up 'terror ring' in Xinjiang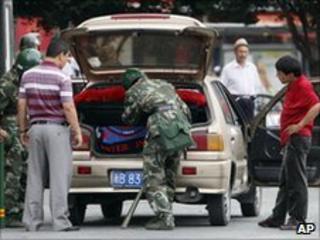 Police in China say they have broken up a gang behind a number of attacks in the western region of Xinjiang, the scene of deadly protests last year.
Public Security Ministry spokesman Wu Heping said 10 men had been arrested and explosives seized.
He said that the group had been planning attacks in several cities.
The announcement comes as Xinjiang prepares for the first anniversary of serious ethnic riots in which Chinese officials say almost 200 people died.
Deadly clashes erupted between the mainly Muslim Uighur community and the Han Chinese community in July 2009. Chinese officials say most of those who died were Han Chinese.
The violence ended after large numbers of troops were deployed in the region, and security has remained tight ever since.
Beijing blames Uighur militants for sporadic attacks in the region, while the Uighurs say Beijing exaggerates the threat to justify crackdowns on their community.
Ethnic tensions
In a news conference, Mr Wu said that the 10 "hardcore terrorists" arrested had planned attacks in southern Xinjiang between July and October 2009.
He said they were also behind an attack in Kashgar in August 2008 in which 16 Chinese border police were killed.
At least two were among a group repatriated to China in December.
Mr Wu did not say which country they had been returned from, but Cambodia returned a group of 20 Uighurs to China in the same month.
More than eight million Uighurs live in Xinjiang, which borders Central Asia.
Many are unhappy about the large influx of Han Chinese settlers which they say has increasingly marginalised their interests and culture.
Last year's ethnic violence was the deadliest in the region for decades.