Indian and Pakistan pledge 'better relations'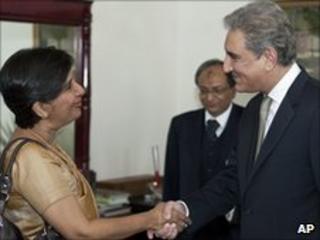 Senior Indian and Pakistani diplomats who have met in Islamabad have pledged to continue efforts to improve mutual relations and restore confidence.
India's foreign secretary Nirupama Rao met her Pakistani counterpart Salman Bashir to decide the agenda for ministerial talks next month.
Peace talks were put on hold after the Mumbai attacks of 2008, which India blamed on the Pakistan-based militants.
In February, the foreign secretaries held their first formal talks in Delhi.
Before that India had regularly rebuffed Pakistani calls to resume a substantive dialogue, saying Islamabad had not done enough to tackle militants or bring the Mumbai attacks organisers to justice.
Over 170 people were killed in the Mumbai attacks, which Pakistan admitted were partly planned on its soil.
'Useful and constructive'
At Thursday's meeting, the two sides attempted to create the groundwork for talks between Indian Foreign Minister SM Krishna and and his Pakistani counterpart Shah Mahmood Qureshi in Islamabad on 15 July.
Mr Bashir and Ms Rao addressed a joint press conference after their meeting.
"We have worked out an agenda for a meeting of the two foreign ministers on 15 July, and we have agreed that all issues will be discussed," Mr Bashir said.
"Our meeting has been useful and constructive, and we understand that talks should continue," he said.
"We have tried to understand the situation and the difficulties each of us face, and both countries are determined to resolve all issues," Ms Rao said.
"In this meeting we have worked out a way for sustained dialogue between the two countries, and the foreign ministers will take the process further."
Ms Rao said India had raised concerns about terrorism and that Delhi and Islamabad had to work together to deny militants the opportunity to sabotage their dialogue.
Earlier, Ms Rao said India would stress the need for "credible action" from Pakistan over evidence Delhi had provided to Islamabad in relation to the Mumbai attacks.
In April, Pakistani PM Yousuf Raza Gilani said that Pakistan had taken action against the Lashkar-e-Taiba balmed by India for the attack, but India needed to provide more evidence.
Late last year, Pakistan charged seven people in connection with the Mumbai attacks.
They include the suspected mastermind Zaki-ur-Rehman Lakhvi, who is allegedly the leader of Lashkar-e-Taiba.