Australia's new prime minister: Your views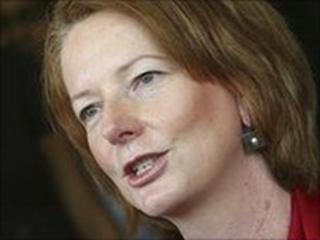 Julia Gillard has become Australia's first female prime minister after former PM Kevin Rudd stood aside from a party ballot.
The ruling Labor Party has suffered a sharp drop in support in recent opinion polls.
Mr Rudd's popularity plummeted following a number of policy setbacks.
BBC News website readers in Australia have been commenting on the country's new leader.
GOOD LEADERSHIP
UNELECTED PRIME MINISTER
FEMALE LEADER