Kevin Rudd's rapid fall from grace
By Nick Bryant
BBC News, Sydney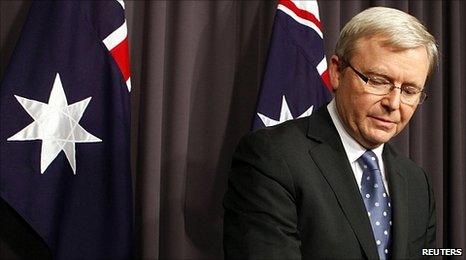 The tumble of events has been extraordinarily fast. At the start of this year the polls suggested that Kevin Rudd remained Australia's most popular prime minister in 30 years - since the days of Bob Hawke.
Australia had been one of the few countries to avoid recession after the global financial crisis. His re-election seemed certain. The talk was of a Rudd era of government, stretching out, perhaps, over a decade.
But the pivotal moment came earlier this year when he decided to shelve the centrepiece of his environmental strategy, an emissions trading scheme.
Many thought it was an act of political cowardice - "gutless" was the oft-heard word.
The decision also brought other concerns about his style of leadership to the surface - his aloofness from colleagues, his refusal to consult with his cabinet, what many viewed as intellectual arrogance and a tendency to back down rather than battle when public opinion turned against him.
Since becoming leader of the Labor Party in 2006, he had always been much more popular with the Australian people than with his colleagues in the party.
But after picking a fight with the resources sector over his plans for a super tax on their super profits, the polls slumped again - especially in the mining states of Western Australia and Queensland.
Now Kevin Rudd could no longer trade on his popularity, and the party powerbrokers and factional leaders decided the government would fare better at the forthcoming federal election with Julia Gillard at its head.
Always a more popular figure within the party, Ms Gillard had the numbers to beat him.
She had done for months, but had been reluctant to challenge Kevin Rudd. Eventually the pressure from the powerbrokers became irresistible, and she finally decided to wield the knife.
Kevin Rudd could not even command enough support to make the leadership ballot competitive, and stepped down rather than suffering an embarrassing, lop-sided defeat.
So the Welsh-born Gillard will now become the country's first female prime minister.
Related Internet Links
The BBC is not responsible for the content of external sites.