Scottish petition calls for wild salmon protection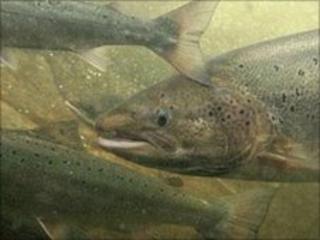 A group fighting to preserve stocks of wild salmon will present a petition to the Scottish Parliament later calling for tougher policing of fish farms.
Anglers' body the Salmon and Trout Association say fish bred in cages near salmon rivers are spreading parasites, causing a decline of wild salmon.
Leaders of Scotland's fish farming industry say the complaints are ill-informed.
Former presiding officer David Steel will present the 17,000-name petition.
The row has become increasingly bitter over what is causing the long-term decline in stocks of wild salmon, says BBC Scotland correspondent Colin Blane.
Rivers in the west Highlands have been particularly badly affected.
The association say fish farms breed devastating levels of the parasite sea lice, which then destroy wild fish.
The anglers want fish farms moved away from the mouths of salmon rivers.
In reply, leaders of the fish farming industry are scathing and say wild salmon numbers were falling even before farms were set up.