Why Obama picked Petraeus to replace McChrystal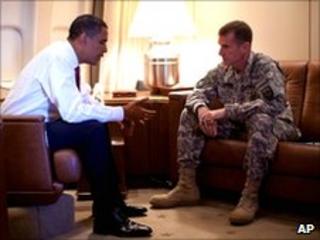 You know that US President Barack Obama has made the best possible choice in difficult circumstances when even Republicans praise him, in these very partisan Washington days.
Republican senators John McCain and Lindsey Graham along with Independent Joe Lieberman, who had criticised Gen Stanley McChrystal's comments in the Rolling Stone magazine, came out immediately to "applaud" Mr Obama's decision's to name Central Command (CentCom) chief Gen David Petraeus as Gen McChrystal's replacement.
Mr Graham said "there was no other choice", while Mr Lieberman talked of how President Obama had stepped up and dealt with the situation.
It points to what was probably one of the key driving factors in Mr Obama's decisive decision-making process. Not relieving Gen McChrystal from his duties would have made the American president look weak in the face of an irreverent "Runaway General" as he was dubbed by Rolling Stone.
"I welcome debate among my team, but I won't tolerate division," Mr Obama said, as he called on everybody to come together.
The team, in particular its civilian element, was described as dysfunctional by Lindsey Graham.
Tactical move
Basically, the message to his National Security team and other top officials in charge of the Afghanistan strategy was "get with the programme".
It may not be a programme everybody agrees on - in fact some believe even Mr Obama himself is unconvinced. But it is the programme his administration chose last autumn, and the president wants everybody to focus on implementing it.
Mr Obama had to choose between continuity in leadership of the war effort at a crucial time for Afghanistan and unity within a leadership that showed respect for him as the commander-in-chief.
By choosing Gen Petraeus, Stanley McChrystal's boss, he probably managed to get both.
Gen Petraeus's rank, profile and background meant his appointment could only be seen as a step up from Gen McChrystal, even though for Gen Petraeus it is a step down from his position as CentCom chief.
It was a tactical move that helped silence potential critics who had worried about disruption to the war efforts.
Even Afghan President Hamid Karzai, who had openly called for Gen McChrystal not to be removed, would probably be hard pressed now to criticise the move.
"This is a change in personnel but it is not a change in policy," Mr Obama insisted during his announcement at the White House.
Gen Petraeus, the man who turned around Iraq, is in essence the one who devised the counter-insurgency strategy that Gen McChrystal was implementing.
As head of CentCom, he was also in charge of Afghanistan and has travelled there regularly.
He is also in regular, close contact with Pakistan's top brass, a key to the regional strategy.
'Not a fan'
But while the article created a storm mostly because of the cavalier remarks Gen McChrystal and his aides made about administration officials, a few paragraphs showed there was possibly also a difference in opinion with President Obama about what time frame to give the war. 
The article quotes a senior military official in Kabul saying that while Mr Obama promised to start drawing down troops next year, the military could instead ask for another surge of troops to build on any success that might be achieved by then. 
Tellingly, Gen Petraeus is not a fan of the 2011 date that the Obama administration has put out there.
While the White House insists it is not a set date for withdrawal, just a date by which some troops could be coming home, it is seen as undermining the strategy by giving the Taliban and al-Qaeda something to look forward to. 
In a hearing in Congress last week, Gen Petraeus said he would recommend delaying the pullout of US forces from Afghanistan beyond 2011 if need be, saying security and political conditions in Afghanistan must be ready to handle a US drawdown. 
Mr McCain made clear that Gen Petraeus would face questions about this "deadline" during his confirmation hearing in Senate.
"We can't tell the enemy when we're leaving," said Mr McCain. 
Republicans will probably like Gen Petraeus's answer but that is when civilians and the military will need to show they are on the same page and getting with the programme.