Ministers ask public sector staff to suggest savings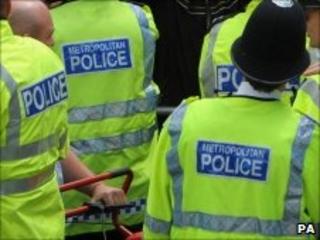 Six million nurses, police officers and other public sector workers have been asked to suggest options for cuts as Budget debate has intensified.
David Cameron and Nick Clegg contacted staff to ask them to find "fair" cuts, a move condemned by unions.
Meanwhile senior Lib Dem Simon Hughes warned coalition colleagues against making cuts to benefits for pensioners.
But he backed away from earlier suggestions that he might seek to change the Budget to make it "fairer".
Mr Hughes, the party's deputy leader, said there would be "trouble" if the government sought to "unpick" aspects of the coalition agreement between the Conservatives and Lib Dems - such as guarantees to protect the winter fuel allowance.
And Labour leadership contender Ed Balls told the BBC's Question Time programme, to be broadcast later on Thursday, this was the "most unpleasant Budget for a very long time".
Labour say proposed 25% average cuts in departmental budgets, which will be determined in an spending review in October, are reckless and will hurt vital services.
As part of the spending review process, ministers are asking public sector workers to suggest services they believe are non-essential, how services can be better targeted or provided more effectively by private and voluntary groups.
'Serious' ideas
Deputy PM Nick Clegg said the coalition government was "prepared to look at any innovative idea, however bold, however radical, however off the wall it might seem to people" if it could save money in a way that was fair and protected "frontline services".
He said that all "serious" ideas would be passed on to officials for consideration and that workers would be invited to discuss their suggestions face-to-face with civil servants.
In their letter, Mr Cameron and Mr Clegg say they want workers "to help us find those savings so we can cut public spending in a way which is fair and responsible".
But Mr Kenny, general secretary of the GMB union, said: "Cameron and Clegg have a damned cheek in asking public sector workers to co-operate in sacking thousands of them. It is an utter outrage."
He said unions were "perfectly capable of speaking up on their behalf" and would be resisting "savage cuts in public services".
'Big differences'
Meanwhile research by the respected economic think tank the Institute for Fiscal Studies which said "progressive" reforms in the Budget had largely been announced by the previous Labour government and the new tax and benefit changes were "regressive overall".
But Mr Clegg said that excluded measures that were being introduced. He told BBC Radio 4's Today programme: "The top earners make a much bigger contribution than anybody else."
He said "very exceptional measures" were being taken to instil "fairness" into the Budget - pointing to the raising of the income tax personal allowance, which is estimated to take 800,000 low paid people out of income tax altogether, and a £150 increase in child tax credits for 1m low income families.
"These are big measurable differences which will help people who are on low pay."
Critics have questioned whether cuts of the scale outlined in the Budget are achievable.
Chancellor George Osborne is already coming under pressure to find more savings from the welfare budget, in addition to the £11bn earmarked in his Budget statement, to minimise the impact on budgets for the police and schools.
Mr Clegg said the number of people on disability benefit had tripled and added: "I think there are some areas of welfare where it is totally right to ask ourselves whether we can spend money more effectively to help people most in need."
Fairness agenda
Amid talk of Lib Dem dissent over the Budget, Simon Hughes - the most senior Lib Dem MP who is not a member of the government - said he backed the Budget but suggested he might seek to table amendments to make it "fairer".
Speaking in Parliament, he warned ministers against any further cuts which would breach the coalition agreement between the two parties.
"There cannot be any unpicking of items in that deal," he said. "Otherwise the whole thing risks falling apart.
Although there was "no suggestion" this was the case, he added: "The deal has to be that we go down the committed road we have signed up to... And if there is any suggestion that it changes there clearly would be trouble."
Mr Hughes later issued a "clarifying" statement, saying that he had "no plans" to try and amend the Budget while stressing the public spending review must be "driven by fairness".
'Economic madness'
The BBC's Deputy Political Editor James Landale said Mr Hughes' comments were a warning that although Lib Dem MPs were on board at the moment, their support could not be taken for granted.
Shadow Business Secretary Vince Cable said the coalition would "stick together" in the face of criticism over the Budget. He said the cuts were "tough and unpleasant" but defended them.
"We have a economic emergency," he told the BBC's Question Time. "It is very, very serious. It has had a massive impact on the public finances which have to be sorted out."
Labour say the cuts are based on an ideological desire to reduce the scope of the state, rather than sound economic reasons, and have challenged uneasy Lib Dem MPs to vote against it.
"Cutting spending now, and this deeply, while raising taxes will lead to more unemployment, slower growth and higher borrowing," Ed Balls said.
"It is back to the 1930s, back to Thatcherism for the 1980s and I can't understand why progressive Liberal Democrats can go along with this economic and social madness."
We asked those of you working in the public sector for suggestions on how to cut costs. Please find a selection of your comments below.