Donagh brothers 'abused up to 50 victims'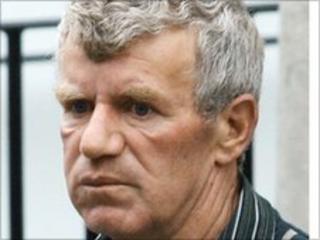 One of the victims of four brothers who sexually abused children in County Fermanagh has said they may have abused up to 50 other boys and girls.
Between them, the McDermott brothers, from Moorlough Road in Donagh, faced 60 charges of abuse spanning five decades.
One was sent to prison last week, while another killed himself during his trial.
But there is anger that two of the brothers are living in the community.
John McDermott was jailed for nine years last Friday for the abuse which was described as frequent, regular and persistent.
He raped and abused generations of young boys and girls in the village of Donagh.
Peter Paul McDermott was found hanging in a graveyard in Donagh during his trial on abuse charges involving two young boys.
The two other brothers, James and Owen Roe, also abused young children but were mentally unfit to stand trial.
They were released back into the community, but banned from going near children.
One of the victims said it was an outrage that they are allowed to live close to a playpark, playschool and youth club.
Other adults are also alleged to have been involved in the systematic abuse.
Another victim believes between 40 and 50 children in the area were abused.
'Mental torture'
In an interview, the victim, who did not want to be identified, said: "I was subject, personally, to a huge amount of bullying, a huge amount of mental torture and, as the judge rightly described, it went on to sexual abuse.
"There were others, other than the McDermotts, taking part in this sort of activity. There were actually five McDermott brothers and one of them died a number of years ago and he was just as bad as his brothers."
Talking about the judge's decision, the victim added: "The judge has acted in the only way he could, he has used all the options that were open to him, and has used them to the maximum.
"I don't think the public is protected, I think we've unleashed a loophole here for paedophiles all over the country to go out and take advantage of this situation and it is going to happen...
"A paedophile is always a paedophile, that can never be put right, and these people are living in the community, in front of where children are playing, it is just I think, this legislation has got to be readdressed."
The community is to hold a public meeting to discuss the situation.
The victims are calling for a review of mental health legislation to deal with sex offenders who, they feel, have escaped justice.