Government drops Bullingdon immigration centre plans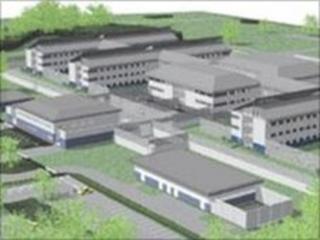 Plans to build an immigration removal centre near Bicester in Oxfordshire have been dropped by the government.
The proposals to house 800 failed asylum seekers were submitted by the UK Border Authority in 2008.
Immigration minister Damian Green told North Oxfordshire MP Tony Baldry that the project was "unaffordable under current plans."
The previous government had said 500 jobs would be created at the new centre at Arncott near Bullingdon Prison.
Spending review
In a letter to Mr Baldry, Mr Green said: "I appreciate that delays in making a decision are unsettling for local residents but the construction of the centre is currently unaffordable under current plans.
"There is therefore no plan to commence construction at this time.
"The UK Border Agency will, however, be considering a variety of options for expanding the detention estate in the run up to the spending review due in the autumn."
Mr Baldry said: "If the Home Office haven't got the money to build a new immigration removal centre at Arncott now, it is very difficult to see - given the country's present financial circumstances - when at any time in the foreseeable future they are ever going to have the money to build a detention centre at Arncott."
The UK Border Agency had said the centre was a "critical part" of plans to speed up the removal of illegal immigrants, failed asylum seekers and others who come to the UK and "break the rules".
It would have been designed and secured to the same standard as a Category C prison, meaning detainees would be locked inside.