Terror charge Briton was 'lonely', court told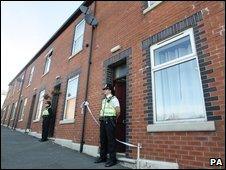 A defendant who called for the deaths of the Gordon Brown and Tony Blair was a "lonely young man" who "wallowed" in extremist material, a court has heard.
Ishaq Kanmi, who posed as the head of "al-Qaeda in Britain" on a website in 2008, had a "miserable childhood", Manchester Crown Court was told.
Kanmi, 23, of Blackburn, has admitted professing to belong to al-Qaeda and inviting support for the terror group.
But Kanmi, to be sentenced, denied soliciting to kill the former PMs.
In May, when the defendant admitted other charges, the Crown Prosecution Service said it was willing for the counts relating to Mr Brown and Mr Blair to lie on file.
At the time, Kanmi also admitted collecting or making a record of information likely to be useful to a terrorist and three counts of disseminating terrorist publications.
Andrew Edis QC, prosecuting, said that between May 2007 and August 2008 Kanmi was "carrying out a determined internet campaign designed to radicalise and recruit people to the cause of jihadi terrorism.
"Specifically, the first of the postings called for martyrdom operations against named persons including Gordon Brown and Tony Blair," he continued.
"He was purporting to have started an organisation, an offshoot of al-Qaeda within the UK, in calling people to flock to its banner."
In his postings, which were written in January 2008, Kanmi called for the withdrawal of UK troops from Iraq and Afghanistan.
He also demanded the release of all Muslim inmates at Belmarsh prison in London.
But on Wednesday, the court was told there was no evidence Kanmi had any association with the hierarchy of al-Qaeda. It also heard how there was no such organisation as "al-Qaeda in Britain".
Ahead of sentencing on Thursday, Joel Bennathan QC, representing Kanmi, said his client was a man who had been constantly bullied at school and had no friends.
After leaving school Kanmi found solace in his local library, he told the court.
"Once he was there endlessly using the computers, he got quite handy with them. He wallowed in the sort of jihadi material he found and committed the offences he has pleaded guilty to," Mr Bennathan said.
Kanmi could hardly be compared to mature, intelligent, nationally known figures such as clerics Abu Hamza and Abdullah el-Faisal who were convicted and jailed for urging their followers to murder others, he told the court.
"The defendant was a lonely young man sitting in the Blackburn public library who provoked ridicule and, by and large, indifference. There is a great gulf between him and those people," he said.
Mr Bennathan asked the judge, Mr Justice Mackay, to "reflect that gulf" when he passed sentence.
Kanmi was arrested at Manchester airport in August 2008 carrying three electronic storage devices and a mobile phone, all containing terror-related information he intended to distribute.
He had been planning to board a flight to Helsinki, together with Abbas Iqbal, also from Blackburn.
Iqbal is one of two brothers who filmed al-Qaeda-style propaganda in a park and dubbed themselves "The Blackburn Resistance".
He was sentenced at Manchester Crown Court to three years in jail in March.
Related Internet Links
The BBC is not responsible for the content of external sites.