'Little progress' in allergy treatment in the UK, say doctors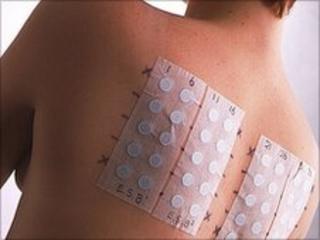 Leading doctors say millions of people affected by allergies in the UK are being denied the specialist medical help they need.
A report by two Royal Colleges and allergy doctors says services should be better organised.
It is thought up to seven million people have an allergy severe enough to require specialist care.
The report gives a picture of increased pressure on services and a shortage of specialist doctors.
The authors from a working party of the Royal College of Physicians and the Royal College of Pathologists believe matters have not improved since a similar report three years ago.
One third of the population is estimated to have a condition which could be considered an allergy.
This might be hayfever, eczema or asthma. At the more severe end of the scale are illnesses such as coeliac disease.
Patients with severe allergies to factors such as food, dust, antibiotics or bee and wasp stings can be at risk of anaphylactic shock - an extreme reaction which can be life-threatening.
The experts acknowledge that the years of plenty in the NHS are over - they say much could be achieved by better leadership and getting doctors from different disciplines to work together.
The working party's secretary - Dr Bill Egner, a consultant from Sheffield - said: "Allergy services can still improve - despite the current financial climate.
"There's a wealth of experience that could be used to spread better care.
"But at the moment allergy is an inappropriately low priority in the eyes of commissioners.
"There needs to be intelligent direction from the Department of Health and local commissioners."
The experts say some GPs still do not know enough about allergies, and pharmacists often use inappropriate tests on patients.
Dr Egner added: "The best validated tests are worthless without skilled interpretation.
"The best tests are done in a controlled environment, so you can see how the patient reacts.
"It's sometimes very difficult to spot rare allergies. Most doctors won't have the tenaciousness."
The working party said there was a "mismatch" in junior doctor training.
They highlighted projections that 100 new anaesthetists would have no job to go to this year - and suggested that such doctors could be redirected to train in allergy.
The chairman of Allergy UK, Muriel Simmons, said: "For the patient, allergy impacts on every aspect of their life and can lead to long-term health problems.
"It is very disappointing that very little progress has been made. Commissioners have to start listening."
A Department of Health spokesperson said: "Although there have been advances in improving allergy services since 2007, more work needs to be done.
"Local health service leaders should also look carefully at the recommendations of this latest review, and consider what they mean for local services, and make improvements to patient care in their area."