Jail term proposals watered down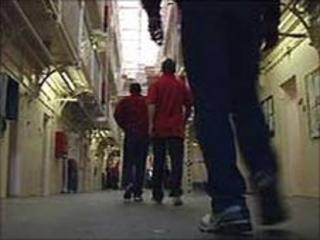 Scottish ministers have watered down key plans to discourage jail sentences of six months or less in order to win enough backing for its justice reforms.
Justice Secretary Kenny MacAskill said he now wants a presumption against three-month terms or less when sheriffs are sentencing criminals.
The government hopes the compromise will win Lib Dem support as part of the Criminal Justice and Licensing Bill.
Labour described the move as a "monumental admission of defeat".
The presumption against six-month sentences was ditched from the bill earlier this year in a Holyrood committee vote, although ministers had intended to reintroduce it.
'Flagship plan'
Mr MacAskill said the latest proposals would involve tougher, community-based punishments, adding: "This is a proposal which has the best chance of gaining wide parliamentary support, and also has built-in flexibility allowing parliament to increase the presumption from three months at a later date.
"This is a significant improvement upon the current system, which will allow us to take action to reduce crime even further in Scotland's communities."
Government plans to end short jail terms and boost non-custodial sentences are key to its strategy on cutting re-offending.
But Labour said more than 6,000 people were last year jailed for three months or less for offences including serious assaults.
The party's justice spokesman, Richard Baker, said: "This is a monumental admission of defeat from the SNP and is a clear indication that their flagship plan to free thousands of criminals is reckless and unfunded.
"Under these plans, almost 7,000 criminals will walk free."