Dress for Success: Making-over to make the cut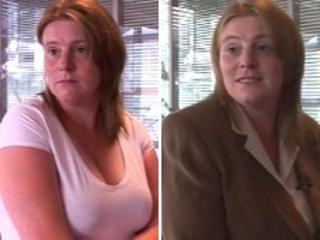 Charlene Fairley is a 35-year-old mother who is one of the first to be referred to a new charity set up to help "suit and boot" unemployed women for job interviews.
Dress for Success launched earlier this year and is now starting to handle its first referrals.
Charlene, from Wishaw in Lanarkshire, said: "I've been looking for a job for a wee while. My youngest is at school now and I have been in and out of work but I'm keen to find something, anything really.
"That's what brings me here."
Charlene arrived at the charity's new premises in Strathclyde Business Park in Bellshill hoping to find an outfit with which to make that vital first impression.
"I normally go for black - black trousers and a black top. But I want to try something a little bit different today."
She was met by Katrina Gibbons, the founder of the first Dress for Success Scottish "franchise". The idea came from the US where the organisation began 11 years ago and has become hugely successful.
Ms Gibbons explained: "Dress for Success is famous for its 'suit'.
"It provides women with a suit for interview but also much more than that. We also then supply a week's worth of mix and match work wear for the women and perhaps most importantly a support network.
"Women can meet up with other women to discuss employment issues and that's very important for those who have been out of the work place, or indeed have never worked."
Charlene was shown around the boutique-style created by Ms Gibbons and other volunteers. As she browsed the rails a "personal shopper" was on hand to offer style tips and also talk through the interview process.
Ms Gibbons said: "It is just like coming into a shop.
"We will look at the woman's colouring and body shape and help her pick something specific to her and to the job she is going for.
"Then we will look at accessories and something to maybe brighten it up, add a bit of flare."
Women are referred to Dress for Success by local employment agencies. Liz Meena, a board member at the charity, is also a team leader at Routes to Work and will identify women she thinks could benefit from the scheme.
She said: "There are a lot of people who think wearing their best disco outfit is the right thing to do.
"A lot of people don't understand about look neutral. They will wear football strips, or T-Shirts with their favourite band, or even swear words on them.
"They might think they look their best but it is not right for an interview."
Pilot programme
The suit Charlene finally settles for still has it's shop labels on. The charity's stock comes via donations from individuals and corporate clients and have often never been worn.
Ms Gibbons said: "I am still so amazed by how generous people are.
"It's maybe a suit a woman has bought, still sitting in the back of the wardrobe because she thought she would slim into it and never did. Or maybe she has slimmed out of it.
"Everything is steam cleaned and immaculate. I wouldn't put a suit on a woman that I wouldn't be happy walking out the door in myself."
As well as suit donations, local businesses, including Morrison Maintenance and Property Care and HF Developments, have also helped provide and furnish the charity's new headquarters.
With her outfit chosen Charlene is now treated to a bit of pampering. A trained make-up artist is on hand to give her a new look to match her new suit.
"It is brilliant, " said Charlene.
"It's totally different from what I would usually go for. Not me at all but I feel more confident, more intelligent, because I am all dressed up."
And Charlene has reason to be confident.
The charity ran a pilot programme last year and of the six women who took part, two have since secured employment.