Parents' takeover bid of St Margaret's School fails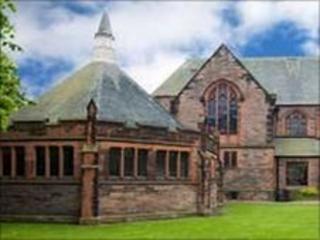 An eleventh hour campaign to save a private school in Edinburgh from closure has failed.
Parents of children at St Margaret's school tried to raise £2.5m over just a few weeks after the school went into administration earlier this month.
The school which is 110 years old will close its doors for the last time on 29 June.
The pensions of teachers are directly affected and some parents have lost up to £21,000 in fees paid in advance.
A spokeswoman for the school's parent and friends association said they were proud to have left no stone unturned in their bid to save the school from closure.
Val Devlin, St Margaret's Parent and Friends Association spokeswoman, told the BBC Scotland news website: "We're really proud of the team we put together and that we left no stone unturned in our efforts to save the school from closure.
"Things haven't worked out as we hoped but the time scale was absolutely ridiculous to raise this sum.
"Had we been informed before the liquidation being announced we would have had a fighting chance."
The school has said it did not want to announce closure earlier as it was trying to prevent liquidation and also because it did not want to distress pupils sitting major exams.
Dr Devlin said parents are concerned that teachers' pensions have been affected and in a difficult job market they are now faced with finding alternative posts.
But she said she was confident children would find places in other schools although they will have to separate from many friends and classmates.
The school, including the nursery, has 397 pupils and 143 staff - 69 teaching and 74 non-teaching.
Senior pupils pay £2,456 per term and boarders £2,628 per term.
Blair Nimmo, head of restructuring at KPMG in Scotland and provisional liquidator of St Margaret's School: "Following a last minute request we meet with the consortium on Wednesday morning where we were saddened to hear the problems they have encountered.
"Whilst they confirmed they are not in the position to make any proposal we advised that should this situation change we would be happy to speak with them."