London homes hit by power cut during World Cup match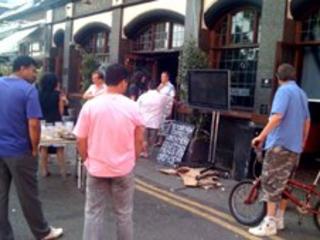 Thousands of football fans in west London missed England's World Cup goal against Slovenia due to a power cut.
Energy firm EDF said the problem, which began at 1520 BST, was caused by a fault on a high-voltage cable network. Power was restored by 1638 BST.
It apologised to customers but an angry pub landlord said the company "should hang its head in shame".
The problem affected homes in the TW1 to TW12 postcode areas, which includes Twickenham and Kew.
The power failure also affected the Hampton Water Treatment Works, which led about 500,000 homes being without water, or having reduced pressure, for at least four hours.
Electricity was reconnected to the facility at about 1845 BST and Thames Water said water supplies had been restored to all affected properties by midnight.
People 'angry'
EDF said: "We recognise this incident will have affected viewing of England's World Cup match and our engineers worked as quickly and as safely as possible to restore supplies."
Paul Grimes, landlord of the Greyhound pub in Kew, said: "We had a power cut two weeks ago. They must have known there would be a surge.
"The electricity company should hang its head in shame."
Television presenter Declan Donnelly, one half of duo Ant and Dec, was watching the match in a pub in Kew when the power went down.
"We rushed into the street and listened to it on car radios," he said.
"We watched the second half on a TV in an office.
"It's just part of supporting the team against all the odds. It's par for the course really."
BBC journalist Alan Connor, who was travelling on a bus between Richmond and Kew during the match, said: "People on the streets were angry.
"People were filing out of pubs and listening to car radios in the streets and trying to get signals on their mobiles to watch or listen to the match.
"In Richmond, people were trying to find out how far the power cut spread so they could get to an area where they could watch the match."
As well as the power cut, there were reports that some mobile phone networks were not working across much of south-west London.