Beach art at Abersoch for festival promotion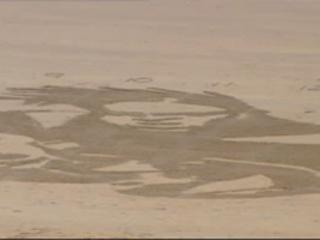 A land artist had created a 20m (65ft) by 60m (196ft) image of a wakeboarder in the sand at Abersoch.
The creation - which will be washed away as the tide comes in - was racked out in a grid system on the sand by Bangor-based Theo Shields.
In the past the 18-year-old has created images of icons Jimi Hendrix and Marilyn Monroe on other Gwynedd beaches.
His latest creation was to publicise the local Wakestock festival.
"This commission is to promote the festival, but I have been in the paper in the past when I did famous people - around the coast - for my A levels," he said.
On average the images can take 4-5 hours to complete, but he said he did not mind when the tide then washes it all away.
"There is not much time between tides, and it has been tight sometimes," he said.
"Half the satisfaction is that nature claims is back," he added.