Dumfries and Galloway Council drops £3m savings bid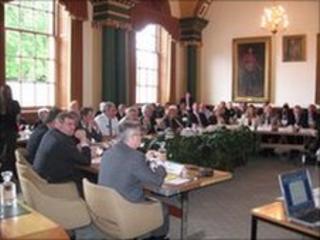 A bid to cut an extra £3m from local authority spending in Dumfries and Galloway has been dropped.
The reduction would have been on top of £5.5m worth of savings already agreed by the council.
The motion to identify a second round of potential budget reductions during the current financial year was tabled by council leader Ivor Hyslop.
However, councillors said the authority should not rush into finding savings and dropped the plan.
Mr Hyslop made the move in response to the UK government's plans to cut £6bn from public spending to tackle national debt.
Cuts to Scottish government expenditure have been deferred for 12 months but the council leader had argued that the local authority should act now to ease the pain in future years.
A meeting of the full council rejected the scheme as being too hurried and risking making the wrong decisions.