Olympics 2012: Fans must use Visa for tickets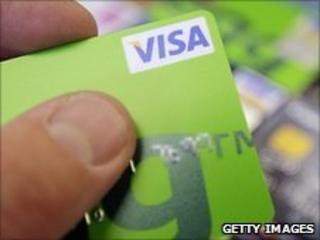 Sports fans who want to buy tickets by card for the London 2012 Olympics will only be able to use the Visa payments system.
The restrictions are part of the sponsorship deal struck between Visa and the Olympic and Paralympic Games.
Visa credit and debit cards will be the only ones accepted at shops or cash machines at Olympic venues.
The competition enforcer the Office of Fair Trading said it was looking into the matter.
A statement said: "The OFT and the European Commission are aware of these issues and are currently in discussion about what action, if any, should be taken."
Visa has been the official card for Olympic events since the Seoul games in 1988.
A London 2012 spokesperson said this kind of arrangement was the norm: "Visa will be the official card and payment system for London 2012, in the same way as for the Beijing Games in 2008 and the Vancouver Games earlier this year. Visa has been a top partner for 24 years, so this is not new."
Visa is the dominant debit card supplier in the country with 53 million customers compared with 17.5 million for Mastercard.
In credit cards, Mastercard has more customers with 36 million holders, compared with 22 million for Visa.
Exclusive
Peter Vicary-Smith, chief executive of the consumers' association, Which? said: "We think it's outrageous that some UK sports fans should be discriminated against in this way.
"We want the London 2012 Committee to take steps to ensure there's a level playing field and that UK consumers have equal access to the Games, whether or not they are Visa cardholders."
Visa points out that non-Visa card holders can buy a pre-pay card for the duration of the Games.
Its spokesman said that sponsorship worked because firms gained exclusivity in their sector - and by doing so the Olympics Committee was able to raise the funds required to stage the games.
Overseas fans will be able to use other cards if purchasing tickets from their national Olympic committee, rather than London 2012 sites.
In 2006, the European Union stepped in over the way tickets were distributed for the World Cup in Germany. Mastercard had a similar sponsorship deal with Fifa but, following talks with the EU, Fifa decided to accept more payment methods for the second phase of ticket sales.
The Visa deal is the latest example of the tight control that sponsors and global event organisers exert over arrangements after paying for sponsorship rights.
A number of court cases have been pursued against companies and individuals falling foul of official Fifa sponsorship deals at the South Africa World Cup.
The most high profile one was the case of the young women in orange mini dresses who were accused of trying to promote a Dutch beer at the recent Netherlands v Denmark match.