Spit test for bone marrow matches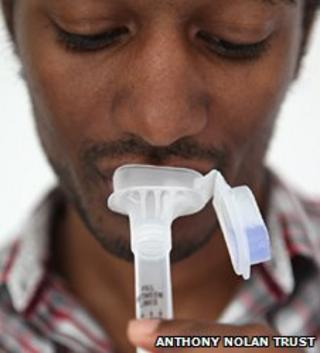 A charity is hoping to double the number of lives saved by encouraging its donors to spit.
Currently blood samples are used to determine bone marrow type for potential matches, which means a trip to the doctors.
But from 1 July the leukaemia charity, Anthony Nolan Trust, is launching a new way for people to join its register.
They will ask for a saliva sample, which can be given from the comfort of your own home.
The UK charity is the first in the world to use this system for its donor register.
Postal kit
The saliva kits can be simply posted out to someone who wants to join the register, and they just need to complete a medical questionnaire, spit into the tube and send it back.
Their data will then be stored pending further tests if a match is found.
The charity hopes the new collection method will appeal to a younger, busier audience.
Henny Braund, chief executive of Anthony Nolan, said: "Ultimately, this is about saving more lives. Anthony Nolan provides two potentially lifesaving transplants every day, but there is an equal number that we can't currently help."
"We urgently need to increase the number of people on our register, and saliva testing will help us do that much more quickly and effectively."
The Trust's research team has shown that saliva is just as good for tissue typing as blood. A spit sample provides long and intact strands of DNA, which can be analysed to find the best possible match between donor and patient.
If a match is found the donation of bone marrow involves the removal of stem cells from the hip bone. This is done using a needle and syringe under a general anaesthetic in a hospital.
The new saliva kits have been piloted over the last seven months and over 5,000 people have joined the register - now it is being rolled out across England and Scotland.