Bald man wins police hair drug test appeal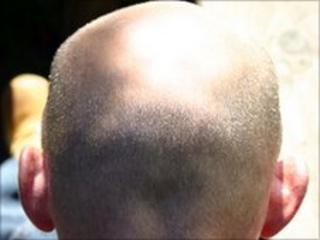 A man who applied to join the police but was rejected because he did not have enough hair for a drugs test has successfully appealed against the decision.
It is understood he was at an advanced stage of the Police Service of Northern Ireland's recruitment process when problems arose over the testing.
Because of his baldness, he could not give them hairs of up to 3cm in length.
He was also unable to provide about 200 body hairs as an alternative.
PSNI lawyers told the High Court in Belfast he would be reinstated in the recruitment process. Policies will also be changed to ensure other sources of analysis are included.
The man, who has not been named for security reasons, launched judicial review proceedings following his unsuccessful attempt to become a trainee officer.
In his legal challenge, the would-be policeman claimed the decision was irrational and discriminatory.
As the case opened at the High Court on Wednesday, lawyers for the PSNI accepted he would have to be offered an alternative way of being tested.
The judge was told he would now be reinstated, and practices would be checked to ensure the same situation did not occur again.