Thousands expected at 170th Royal Highland Show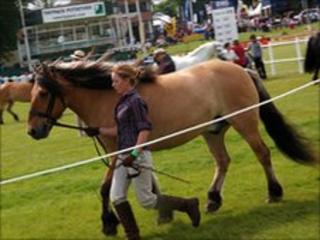 More than 150,000 visitors are expected to visit the 170th Royal Highland Show in Ingliston, Edinburgh.
The four-day event, which had a record 176,000 attendance last year, aims to showcase the best about Scottish farming, food and the countryside.
Officials have predicted that the four-day event will generate about £70m for the Scottish economy.
The displays will include 5,000 livestock, rural skills, music and cookery.
BBC Radio Scotland will be broadcasting live from the event which begins on 24 June and runs to 27 June.
The MacAulay and Co show, Janice Forsyth and Brian Taylor's Big Debate will be among the programmes featured.
Show organisers, the Royal Highland and Agricultural Society of Scotland (RHASS), held the first "Highland" in 1822 in Edinburgh's Canongate on a site now occupied by the Scottish Parliament.
The event was cancelled in 2001 because of the foot and mouth crisis and was hit by tragedy in 2008 when a three-year-old boy died after a concrete bollard fell on him.
The Royal Show in Warwickshire is no longer being held which makes the Highland show the UK's premier agricultural gathering.