Edinburgh's transport convener backs full tram route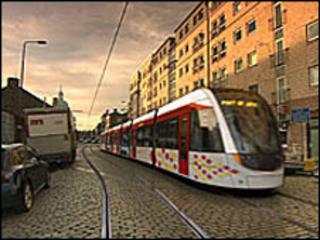 Edinburgh's transport convener has stressed he is "committed to building the full tram route" despite a dispute with one of its contractors.
Gordon Mackenzie said the tram line would not stop at York Place as claimed in a recent newspaper report.
He said the plans were still for the route to be built from Newhaven to Edinburgh Airport.
It follows a report, which said there were major problems with contractor Bilfinger Berger over the project.
Mr Mackenzie said: "A report by the Edinburgh Evening News on Wednesday incorrectly states that the tram line will end in the city centre in a new deal to be struck with the contractor Bilfinger Berger.
"This is not the case. There is a monumental difference between where the current contractor could leave the project and the delivery of the full route.
"I state again as I have previously that the commitment is to have trams running from the Airport to Newhaven.
"We have, however, talked about the possibility of phasing in the full route and this is one of the options under consideration as stated in the report that will go before Councillors tomorrow.
"There are discussions going on regarding where the contractor could leave the project and these options have been shared with councillors.
"I must clarify again that contrary to this sensationalist piece of reporting, Edinburgh Trams are committed to building the full route and will comment publicly on how this could be delivered once the contractual dispute has been settled."