City of Derry airport in new partnership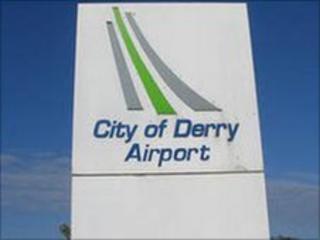 City of Derry Airport has announced it is to enter into a new partnership with a private firm.
It is hoped the deal will end the financial burden on Londonderry ratepayers within seven years.
The airport currently costs Derry City Council £3.5m a year.
The council said in was in the final stages of discussions with a Balfour Beatty Group Company, about entering a management contract.
Derry mayor, Cllr Colum Eastwood, said the contract could bring "additional experience and commercial resources" to the region.
"It is our objective that City of Derry Airport performs as a commercially viable entity, continues to provide economic benefit to the north west and improves air access to this region," he added.
'Global contacts'
CODA Operations Ltd, which is responsible for the day to day running of the airport, said the proposed shared business plan would "reduce Derry City Council's subvention of the airport over the shortest period possible".
"The Balfour Beatty Group Company has substantial experience in the operation of airports and I believe that a management contract will help CODA to maintain and develop new routes, retain the airport as a regional asset and improve the commercial returns from the Airport," he continued.
A spokesman for Balfour Beatty, which currently owns and operates Exeter and Blackpool airports, said City of Derry Airport would benefit from "access to global commercial contacts".
Derry City Council will remain the only shareholder in Airport Company and will account annually for the performance of City of Derry Airport.
About 350,000 people use the airport every year.