Woman strangled mother during row at her Erskine home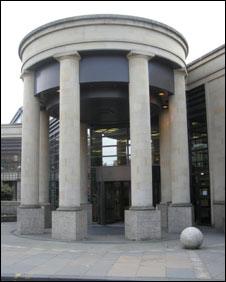 A woman has admitted killing her mother by strangling her during a row at her home in Renfrewshire.
Julie Martin, 32, from Paisley, carried out the attack on 57-year-old Greta Dewer in Erskine in October.
The High Court in Glasgow heard she then phoned her partner and told him: "I've done my mum in."
She was originally charged with murder but pleaded guilty to culpable homicide. Sentence was deferred until next month for background reports.
The court was told that Martin and her mother had a volatile relationship.
The attack happened when Martin, who had staying with Mrs Dewer for a few days, went to leave.
The 32-year-old hit her mother on the head and body and grabbed her neck and compressed it.
The court was told that Mrs Dewer had an undiagnosed chronic heart condition which could have killed her at any time.
Advocate depute Leanne Cross said that on the night of the attack neighbours heard two female voices shouting and swearing.
She said: "The shouting lasted for some time after which they heard the sound of footsteps running up and down stairs and then the sound of a female crying for about two minutes before everything went quiet."
Minutes later Martin phoned her partner Andrew Ewing and told him: "I've done my mum in. I think I've killed her. I've got my hands around her neck. I think I've strangled her."
When Mr Ewing picked her up from her mother's, she told him: "I wanted to leave the house and my mum flew at me. I was backing away and I just lost it."
Mrs Dewer's body was not discovered until two days later when Mr Ewing, who had been unable to contact her by phone, insisted they visit to make sure she was alright.
When he looked through the letterbox he saw Mrs Dewer lying at the front door and called the police.
Defence QC Ian Duguid said: "This is a tragedy for all concerned. She feels remorse. She was crying hysterically at the time this occurred. This was her mother, although there was a background of them fighting in the past she did not intend to harm her."
Judge Lord Bannatyne remanded Martin in custody until sentencing.
Related Internet Links
The BBC is not responsible for the content of external sites.