Parents reject 'bossy' lunch box advice, says Ofsted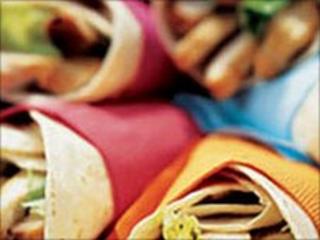 Many parents see schools as "bossy" or "interfering" when they tell them what they can and cannot put in their children's lunch box, Ofsted warns.
Instead parents in England wanted more advice on how to prepare healthier packed lunches, inspectors said.
They said heads often felt uneasy about issuing edicts on lunch boxes.
Inspectors also say some families who are on low incomes but are not eligible for free school meals are struggling to afford school dinners.
And they found some secondary schools in England still used systems which made pupils receiving free school meals readily identifiable.
Inspectors visited 39 primary, secondary and special schools in England between September 2009 and January 2010 to see how they were getting the healthy eating message across.
They found more primary than secondary schools complied with the standards set out for school lunches.
In primaries, the guideline most often not met was the requirement to provide a piece of fruit for every pupil eating a school lunch.
In secondaries, the standard most often not met were those restricting meat products, deep-fried foods and starchy foods cooked in oil.
Lunch boxes
Inspectors said schools' healthy eating policies could be undermined when pupils brought in unhealthy packed lunches.
While some schools brought in rules on lunch boxes, others were uncomfortable with this.
"Some of the head teachers spoken to were reluctant to do this because they did not think that they should tell parents what to do and did not wish to be patronising," the report said.
"Where consultation with families had been poor or where information had not been worded sensitively, parents saw the school as being 'interfering' and 'bossy' and reacted against the advice.
"Many of the parents with whom inspectors held discussions said that, rather than being told what not to give their children, they wanted more guidance on how to prepare a healthy and balanced packed lunch."
Free school meals
The report - Food in Schools - found most of the schools surveyed had come up with ways of increasing the uptake of school meals and free school meals.
But it found some of the secondaries were not doing enough to prevent children entitled to free school meals being singled out.
"Five of the 16 secondary schools still had systems where those entitled to free school meals could be readily identified by their peers," it said.
The report reveals concerns that parents who are on low incomes but are not eligible for free school meals (FSM) are struggling to find the money to pay for their children to be fed at school.
In one case, two children from one family had to take it in turns to have lunch, it says.
Children are eligible for FSM if their families receive benefits or have an annual income of less than £16,040.
The report says: "A more difficult area to tackle for the schools and authorities visited was the take-up of school meals by families whose income was low but who were above the threshold for being entitled to free school meals."
It adds: "Parents from these families told inspectors that they often could not afford to pay for a school lunch, especially if they had more than one child."
Inspectors found "the most significant and consistent weakness" was schools' monitoring of the food they provided and the impact it was having on pupils.
"A major weakness in the schools visited was the lack of monitoring of provision to ensure that the school food standards were fully met," inspectors said.
"Governors were often unaware of their responsibilities in this respect."