Repair work at Tyne pedestrian tunnel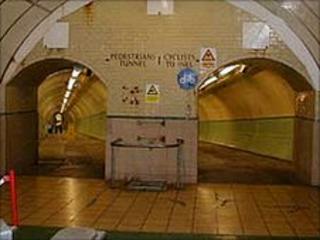 Work is underway to repair equipment in a 60-year-old crossing under the River Tyne.
One of the two lifts at the pedestrian and cyclist tunnel, which has a Grade II listing, has been out of order for months.
Once the repairs are completed, improvement work will begin at the lift at the Howdon side of the river, and should be finished by February.
The Tyne and Wear Integrated Transport Authority will fund the £500,000 cost.
Paul Fenwick, project director, said: "The tunnel is nearly 60 years old, is Grade II listed and much of the equipment has now exceeded its designed lifespan.
"This has made the procurement of works to deal with lifts and escalators complicated and time consuming.
"Unfortunately our customers are currently receiving a level of service which we acknowledge is unsatisfactory.
"The authority is looking at the option of providing a shuttle bus service for those who require assistance getting from one side of the river to the other."