Japan's top earners forced to disclose salaries
By Roland Buerk
BBC News, Tokyo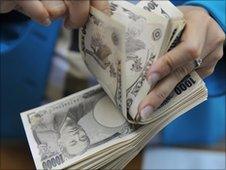 The Japanese are finding out for the first time the salaries of executives at the country's top companies.
A new regulation requires firms to disclose the pay of anyone earning more than 100m yen ($1.1m; £750,000).
The head of Nissan, Carlos Ghosn, is the biggest earner in corporate Japan to so far reveal his pay, which was 890m yen last year.
But the list of millionaire bosses is short, and it is foreigners who are earning the really big money.
The Japanese public has been watching with keen interest as listed companies disclose salaries at the top for the first time.
They are being forced to do so by a new regulation intended to improve corporate governance.
But what's being revealed is that Japan has few millionaire executives.
Companies tend to make decisions by building consensus among a group of managers, all getting a fraction of the pay of their counterparts in Europe or the United States.
The comparatively large salaries of Carlos Ghosn and the other directors of Nissan were approved by shareholders, but not without dissent.
One man stood up and demanded the chief executive share his pay with the company's workers.