Ozzy Osbourne rediscovers his bite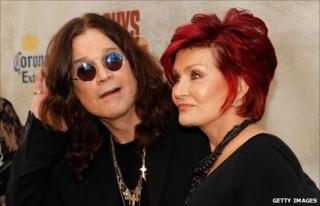 Thanks to the MTV reality series, The Osbournes, many people feel they know rocker Ozzy and his family personally.
So it will come as no surprise to learn what the motivation was for his tenth studio album, Scream.
"It's called my wife Sharon's left boot," he laughs, referring to his wife's vice grip on the Osbourne household, as viewers of the show very well know.
Scream is Ozzy's first release since 2007, and takes him in a new direction. For a start, it's the first time in years that he hasn't collaborated with long-standing guitarist Zakk Wylde.
"It's what I do," the heavy metal star says of wanting to make the new album.
"With that TV thing I do, I did that reality thing for a few years. That's not really what I'm about. That was a kind of an experiment that went crazy. It was okay for my ego for five minutes but I'm basically a rock 'n' roller. That's my passion."
Some might argue that The Osbournes, which ran from 2002 to 2005, introduced the 61-year-old to a new generation of fans, without whom it would be impossible to keep on making music.
But Ozzy - who first had success more than 40 years ago with metal pioneers Black Sabbath - has long had his eyes fixed on future rock stars.
This year Ozzfest, an annual hard rock event founded by the musician and his wife Sharon back in 1996, returns to London's O2 arena in September, with a line-up including Korn, Murderdolls and Skindred.
"We're giving a platform for new bands to play. When I started out with Black Sabbath all them years ago we used to go around and play clubs and bars, play anywhere.
"There were no places to facilitate bands then. There's been a lot of successful bands that have come out of Ozzfest. It's been really good."
'Wild experiment'
The live music arena remains the best place for artists, including Ozzy, to make money - but soundtracks, be they for film or TV, are another way of getting a track into the public consciousness.
Osbourne's new song, Let Me Hear You Scream, recently debuted on US crime drama CSI.
Typically, he was unfazed by his song getting its world premiere on television.
"Sharon goes: 'Ozzy! Come in here!,'" he recalls.
"And they're playing and I'm looking and going, 'What am I watching?' It was so foreign with all the racket going on in there and I'm thinking my wife's gone nuts.
"Then I listened and it was pretty cool. That's a new one for me.
"Sharon took to TV like a duck to water but I don't like doing all this corporate stuff, I don't know anything about it," he adds slightly sheepishly.
"It's like a wild experiment that went wacky you know."
The singer also confesses to being entirely innocent to the advantages of using new technology - be it Twitter, Facebook or even the internet.
"I don't own a computer, I couldn't work one if I tried. I don't own a cellphone, I have an assistant," he explains.
"Do you know when that hurricane Katrina hit New Orleans it shut everything down and they didn't have a back-up system and so everyone relied so much on this stuff that people were dying because they couldn't get any help.
"We all rely on this technological stuff so much the art of conversation is dying - in fact, I get in the car with my assistant and my wife and they are on the phone all the time and I am sitting there like a dork."
Osbourne says that, in all things apart from his knowledge of music, he is a dinosaur - but his charm has meant he remains a rock icon.
Thousands read the first instalment of his biography I Am Ozzy just for the hedonistic tales from the 1960s and 1970s - which the star admits are sometimes a blur. There might be a sequel to come.
"The guy, Chris (Ayres), who did the ghost-writing said to me at the time when I asked, him if he had enough for the book? and he said he had enough for another book.
"So when I saw him doing a column in The Times, I said, ' Are you joking or do you have enough for another book?' and he said, 'I've got it waiting.'
"So if I get struck by lightning today, there'll be another book."
Ozzy Osbourne's album, Scream, is out now.