Education sector in England braced for 25% cuts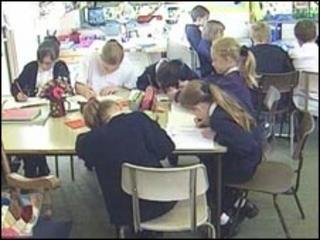 Like many other government departments, education in England is facing a 25% cut over four years.
Although the chancellor has raised hopes that it might be spared the full hit, there are no guarantees and any special treatment will be dependent on other areas taking bigger cuts.
"If, over the coming couple of months, we can find further savings in the welfare budget, then we can bring that 25% number down," George Osborne told the BBC's Today programme.
"In the end, that is the trade-off not just between departments but also between the very large welfare bill and the departmental expenditure bill."
However, the only departments where spending is ring-fenced are health and overseas aid.
Officials at the Department for Education say "tough decisions" will be taken - although details will only be revealed in the next Comprehensive Spending Review this autumn.
It potentially leaves several months of uncertainty, although ministers will "set out their priorities" in the meantime, say officials.
Quangoes scrapped
Education Secretary Michael Gove announced some cuts earlier this month, including the abolition of two quangos: the General Teaching Council for England and Becta - a government agency which promoted the use of new technology in schools and colleges.
Higher education is already facing spending cuts of hundreds of millions of pounds.
Further cuts are expected to follow the publication of the Comprehensive Spending Review and the Browne review into the funding of higher education.
Ministers announced last month that "front line" spending for schools would be protected for this year.
BSF
About three-quarters of spending at the Department for Education goes on schools - though not all directly; some is attached to particular schemes.
This amount also includes capital spending and the Building Schools for the Future programme (BSF), which has funded, with private sector involvement, the building of new schools and buildings across England.
Labour had planned to spend £6.5bn on investment in school buildings in 2009-10, as part of programmes such as BSF and the Primary Capital Programme.
But officials in the Department for Education are now taking a "detailed look" at BSF and the capital programme and an announcement is "expected shortly" they say.
Leader of the Commons Sir George Young told MPs on Thursday that ministers should update MPs on the programme next week.
Mr Gove has pledged to look at every new school project to make sure it offers value for money.
Building contractors and local councils, many with contracts in the balance and school places to plan, are nervously waiting for this announcement
The Conservatives, in opposition, had said the BSF programme was bureaucratic and over-centralised.
They believe generally that too much money is wasted on bureaucracy and "big government" and want to scale back the state.
The cuts, when they come, are bound to reflect that.
Figures published for 2008/09 showed the then Department for Children, Schools and Families had a total spend of £63,180 billion.
Almost £11 billion of that was the teachers' pension scheme - spending over which the department itself has no control.
Of the remaining £52 billion which the department controls, most goes on schools, though some reaches its recipients indirectly through various schemes.
A spokesman for the Department for Education said: "The government sees education as a priority - that's why this year, we are doing exactly what the taxpayer wants in protecting core schools and 16-19 funding, one to one tuition for seven to 16-year-olds and the Every Child literacy and numeracy programmes.
"We haven't hesitated to tackle bureaucracy, red tape and unallocated central budgets this year - to reinvest savings into measures targeted at raising the poorest pupils' attainment, recruiting high-performing graduates and career changers.
"The Chancellor promised in the Budget promised to recognise the 'particular pressures' from education in the Comprehensive Spending Review.
"We're honest and upfront that very difficult decisions will have to be made in future years. We are not going to get into speculation ahead of the review - our job between now and October is to get the balance right between urgent action to manage the public finances, cutting out waste and protecting the front line."
Pension fears
Like other public sector workers, teachers, lecturers and others in education are being warned of tough times to come on pay and pensions.
Public sector workers earning more than £21,000 over are facing a two year pay freeze from April under measures announced in the emergency budget.
Teachers in England and Wales had already been promised a pay award of 2.3% for this September - the last year of a three year deal - and this will be honoured, Education Secretary Michael Gove has said.
The prime minister has raised the prospect of public sector workers having to pay more into their pensions and receiving less.
Unions have accused the government of "declaring war" on public services and say the budget was the "most draconian in decades".
At the annual conference of the National Union of Teachers at Easter, delegates gave a standing ovation to Mark Serwotka, the general secretary of the Public and Commercial Service Union, when he called on public sector unions to join forces to fight any cuts in jobs, pensions or conditions of service.
At the same time, the government is pressing ahead with dramatic changes to the way schools in England are run and funded.
However its academies and free schools programmes are both strongly opposed by teaching unions.
So far, the government has allocated £50 million for this year for start up costs for the new free schools it wants groups to set up.
Academies funding will be part of the Comprehensive Spending Review in the autumn.
Under the academies programme, good schools are being encouraged to become independent of local authority control and be funded directly by the government.
Teachers' unions say pay and conditions could suffer under such arrangements - although that is denied by the government.
The government believes both schemes will help raise standards and deliver a better education system, while cutting costs.
It is banking on its philosophy of freeing schools and slimming down the state to deliver in what will undoubtedly be a time of "difficult decisions".